BODS
BODS 2023/24- School of Rock!
Bishopshalt Operatic and Dramatic Society (BODS)
Tickets are Live for The Bishopshalt Operatic & Dramatic Society's production of School of Rock 30 Nov - 2 Dec 2023!
Early Bird ticket offers are available from now until the 2nd of October so be sure to make the most out of this Limited Time offer!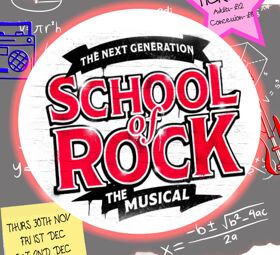 Rock got no reason, rock got no rhyme… You better get me to school on time!
The show follows Dewey Finn, a failed, wannabe rock star who decides to earn an extra bit of cash by posing as a substitute teacher at a prestigious prep school. There, he turns a class of straight–A pupils into a guitar-shredding, bass-slapping, mind-blowing rock band. But can he get them to the Battle of the Bands without their parents and the school's headmistress finding out?
Based on the Paramount movie by Mike White. Book by Julian Fellowes. Lyrics by Glenn Slater. New Music by Andrew Lloyd Webber
Come and support the students of Bishopshalt as we Climb to the Top of Mount BODS!!!
Please use the individual links to book your tickets for the relevant performance night.
Thursday 30th Nov @ 7.30pm https://www.ticketsource.co.uk/booking/t-dvlxvlq
Friday 1st Dec @ 7.30pm https://www.ticketsource.co.uk/booking/t-eazrazd
Saturday 2nd Dec @ 7.30pm https://www.ticketsource.co.uk/booking/t-ojzajzd
If you had any further questions regarding the performance or how to be involved, please contact shudson@bishopshalt.school
What is BODS?
As BODS, we hold one show annually which consists primarily of our upper school students. This show takes place in early December each year. Details, including photographs, of past shows can be seen under the show headings and in the BODS Photo Gallery along with an independent report from our National Operatic and Dramatic Association (NODA) representative who review our shows and the performance.
Junior BODS has been running for the last few years and is for our younger KS3 students. Auditions are held at the end of the Spring term with performances taking place in July.
BODS contacts
BODS: Mr Jay
Junior BODS: Mrs Gooch
Arts College Administrator: Miss Hudson
Past Productions
2022 Little Shop of Horrors - For a little taste of the show, have a look at our Image Gallery.
2021 Moana Jnr (Junior BODS)
2021 9 to 5 - the Musical
2019 13 - The Musical.
Our cast were fantastic! It wasn't just us that thought so - BODS won The Youngstars Award for Best Youth Production in the London Region for 2019/20!
2019 Peter Pan Jnr (Junior BODS)
2018 Legally Blonde
2018 Mary Poppins Jnr (Junior BODS)
2017 Beauty and the Beast
2017 Teechers (Junior BODS)